Four consumers who completed the BRIDGE pre-apprenticeship training program were recently recognized in an online graduation ceremony hosted by the SCCB Training and Employment division.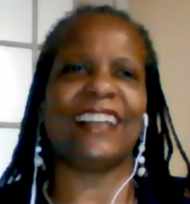 Jessica Bynum, Janice Crosby, Courtney Rone, and Ryan Szymanski shared with attendees how the BRIDGE program had made a difference in their lives.
"I really appreciated learning the different approaches to customer service," says Ryan. "It's important to be professional and find the best solution to a customer's issue, and to show you are a good representative for the company that hired you. The skills and confidence I gained through this program will help me become a great employee."
BRIDGE (Building Readiness for Individualized Development of Gainful Employment) is a pre-apprenticeship training program that provides a career path for consumers into employer-based apprenticeships or direct placement. The 6- to 8-week training incorporates work readiness development, job shadowing, and a Job Club experience to provide consumers with skillsets that meet specific needs of industries and align with the consumer's vocational goals.
The consumers received 72 hours of job readiness training, 60 hours of customer service training, and 120 hours of other job related education.
Earlier this year, BRIDGE was invited to be a pilot program with Apprenticeship Carolina, which will allow graduates to compete for apprenticeship opportunities in the Customer Service field. Graduates will also be considered as candidates for BlueCross BlueShield's Customer Service Associate Apprenticeship program or a direct hire.
In addition to the certificate for completing the BRIDGE program, each consumer received a credential from the National Retail Federation (NRF) Foundation recognizing them as a Customer Service and Sales Certified Specialist. They also completed training accredited by the International Association for Continuing Education and Training which prepared them to work in a variety of call center environments.
"This program has given me a lot of self-confidence," says Janice. Although she had been in customer service previously, she said she's learned how to be a much better representative now. "Thank you to everybody."
Jessica agrees. "I really appreciated the whole experience. I learned a lot from the training. I know what to expect from [customers] and how to respond to them."
Janice is currently in the application process with BlueCross BlueShield. In February, Jessica will begin employment with Conduent, a company which provides call center and other support services for businesses and industry.
Community and business partners who were in attendance included Gayel Wigfall, Diversity and Inclusion Consultant at BlueCross BlueShield; Tammie Anderson, Diamond Coaching Institute; Karen Crider, Palmetto ABLE; Raven Freeman, SC Works Midlands; Dr. Leigh Hicks, Footsteps 2 Success, Inc.; Olivia Heath, Apprenticeship Carolina; and Monika Lamb and Chinesa Brown, CP Johnson Enterprise.