Michael Cooper became a consumer with the South Carolina Commission for the Blind (SCCB) when he was eight years old. He was diagnosed with retinitis pigmentosa, a rare genetic disorder that results in the breakdown of cells in the retina, which is the light sensitive tissue in the back of the eye. It causes the field of vision to narrow and difficulty seeing at night. A progressive condition, the area of central vision gradually becomes smaller and peripheral vision diminishes.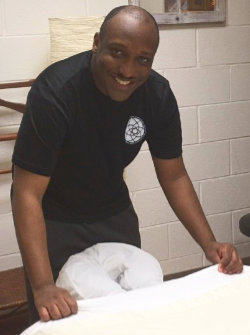 While he was in middle school, Michael said he had some challenging times in the classroom, and that he felt his best when he was playing in the gym. His mother encouraged him to be active and play sports, and as a result he developed a keen interest in health and fitness.
Michael also received valuable support from SCCB and his former counselor.
"My counselor, Liz Lewis, was blind," he says, "and she was an inspiration to me." She helped him obtain resources, such as a magnifier and large print books, that were invaluable to him in middle school and high school.
During high school, he participated in SCCB's Summer Teen Program and Student Internship program (SIP), in which he completed an internship in Exercise Science at Pivotal Fitness Center in Columbia, SC.
These experiences helped Michael decide to attend the University of South Carolina Upstate, where he pursued a bachelor's degree in Exercise Science. SCCB helped him with tuition assistance, and also provided counseling and guidance. As part of his studies, Michael completed internships with Trinity Health & Fitness and Nautilus Fitness Center, both in Spartanburg.
After graduating from USC, Michael said that he "had a hunger for more knowledge about how exercise affects the human body," and wanted to expand his understanding of "how to help the body recover after exercise." This led him to enroll in the Clinical Massage Therapy program at Midlands Technical College, where he received his state license in Massage Therapy and Body Work in addition to a certification in Personal Training.
Michael says that learning massage was easy for him. He felt comfortable using his knowledge of anatomy and physiology to guide his hands to find tension and stress points in joints.
Michael's initial attempts to find employment were unsuccessful, however, and he began to question his ability to be a massage therapist, and wondered if his visual impairment would hinder him in finding a career. Michael returned to SCCB to seek assistance in finding another form of employment. However, every time he came into the office, all he would talk about was fitness. He would offer advice on healthy eating and suggest exercise plans. It was clear to his counselor and supporting staff that he had both the passion and skills to help others be healthy. So they began working with him to increase his self-confidence and help him find opportunities that would be a good match for his skills. He also received benefits counseling at this time.
Around this time the Katie & Irwin Kahn Jewish Community Center (JCC) in Northeast Columbia posted a position for a Fitness Associate. The JCC was close to Michael's home and the job duties were ones that Michael was familiar with performing. Although the position was filled at the time Michael applied, the JCC collaborated with SCCB to provide an internship for Michael to learn more about the position and for the JCC to learn more about Michael. He started in March of 2019.
Michael was excited and committed to be a success in the field of physical fitness. He asked his family to drop him off as early as 4am to make sure he was on time for the first shift. He used assistive technology he received through SCCB, such as a handheld magnifier and ZoomText, to perform his job duties at the JCC. In the gym, he helped maintain and clean equipment, provided guidance in the proper use of different types of exercise equipment, and offered suggestions to clients about the most effective work outs. He even used assistive cutting aids, which he learned about in SCCB's Home Management courses, to make fruit-infused water for the clients every morning.
At the end of the internship, in June 2019, Michael was offered a permanent position as a Fitness Associate at the JCC. As he became more acclimated to his role, the JCC transitioned Michael to become a part of the Massage Therapy team.
Although the pandemic caused some changes in Michael's work schedule in 2020, he found a way to continue offering services to the JCC's clients. Michael proposed offering chair massages as a way to provide therapeutic treatment while implementing safety precautions for COVID-19. This service was approved by the Fitness Director and became a new service offered at the JCC.
Reflecting on his experience with SCCB, Michael expressed his appreciation for the assistance he received in high school, with going to college, and in helping him find employment.
"SCCB staff believed in me," he says. "When a counselor makes a connection with a consumer and you don't feel like just a number," he says, "that is when SCCB shines."