Shanadria Rush is empathic, an excellent listener, and has a passion for helping others. In 2012, when her vision became impaired, Shanadria came to SCCB and received training to help her adjust to vision loss and in how to use JAWS assistive software.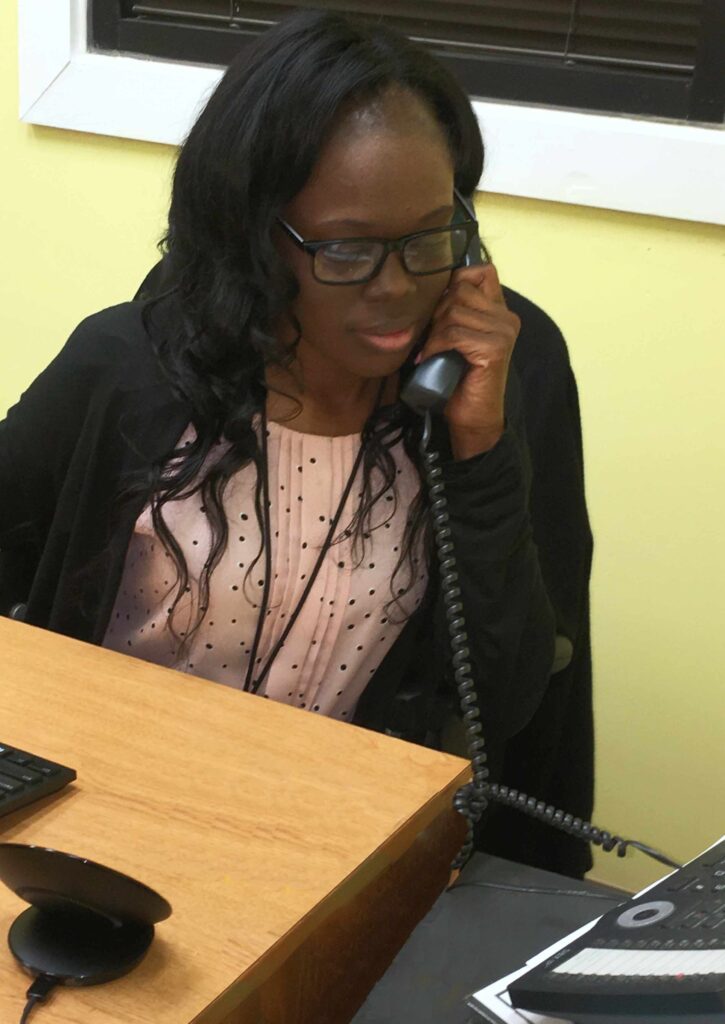 In discussions with her SCCB Vocational Rehabilitation counselor, Shanadria explained that she wanted a job in Human Services where she could utilize all of her skills. She had attended Denmark Technical College, where she received her Associate Degree in Office System Technology, and later earned her Bachelor's Degree in Psychology from South Carolina State University.
She said that she wanted a job in Human Services where she could utilize all of her skills. However, she had difficulty finding employment opportunities in her area, and wanted assistance to help her prepare to enter the workforce.
Her counselor thought that Shanadria would be a good candidate for SCCB's BRIDGE program, where she received training that helped prepare her for entering the workplace and prepare for a career path.
Shanadria completed the classroom portion of BRIDGE training in November 2018, and soon afterward she began on-the-job training at Homeless No More, a nonprofit organization that helps families that are homeless remain together, meet their needs, and transition into affordable housing.
After completing her on-the-job training, Shanadria was employed as a Family Support Specialist at the Homeless No More family shelter in Columbia, SC. She is also employed as a Direct Support Professional at the Midlands Center, which is operated by the South Carolina Department of Disabilities and Special Needs.
"BRIDGE helped prepare me for my career goal," says Shanadria, "and job shadowing taught me how to interact with different personalities, and prepared me for working with people with mental health disabilities."
About the BRIDGE program
BRIDGE (Building Readiness for Individualized Development of Gainful Employment) is a pre-apprenticeship training program that provides a career path for consumers into employer-based apprenticeships or direct placement.
The 6- to 8-week paid training incorporates work readiness development, job shadowing, and a Job Club experience to provide consumers with skillsets that meet specific needs of industries and align with the consumer's vocational goals.
Earlier this year, BRIDGE was invited to be a pilot program with Apprenticeship Carolina, which will allow graduates to compete for apprenticeship opportunities in the Customer Service field. Graduates will also be considered as candidates for BlueCross BlueShield's Customer Service Associate Apprenticeship program or a direct hire.
BRIDGE is also working with Midlands Technical College to offer credential attainment and training opportunities for healthcare support occupations and technical jobs.